Flying Dog Hostels: A Review of Their Four Locations in Peru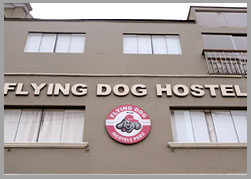 FLYING DOG is a hostel chain Austin and I stayed at in all four of their locations in Peru—Arequipa, Iquitos, Cusco, and Lima. There is a reason why we stuck with this well-run, happy hostel throughout our travels; Flying Dog Hostels are awesome! Here is a review of our experience staying at all four.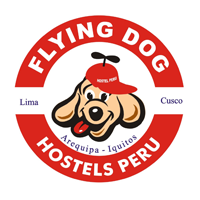 Positives:
Cleanliness: Finding a good hostel in Peru is always hit and miss, but I could count on Flying Dog Hostels to be consistently clean. I didn't have to tip toe in the bathrooms or pretend to not see anything hiding the corners or those suspicious stains I tend to find on the sheets of most other hostels. A clean hostel is the best hostel in my opinion.
Safety: Whether or not we were in Arequipa, Iquitos, Cusco, or Lima, I always felt we and our belongings were safe. Flying Dog hostels have lockers in all their locations. They also have a strict policy about not letting outsiders come into the hostel and have strong security. Flying Dog is not the place to be if you are looking for a party hostel (and there is a time and place for that), but most of the time we appreciated a quiet place to catch up on much-needed sleep.
Price: The dorm rooms we stayed in at all four of the Flying Dog Hostel locations were some of the best values across many of the sites we searched on. Private rooms tend to be a bit pricey, but the dorm style rooms are nice enough that we did not mind. Flying Dog wins for best value.
Value Card: Another way Flying Dog makes the costs competitive with other hostels in Peru is through offering a stamp card for frequent visitors. Each time we stayed at a Flying Dog location we showed them our card, received a new stamp, and got a certain percentage off of our entire stay. By the time we stayed at all four, we were getting an additional 20% off of an already really great rate.
Staff: Without fail, the staff in every one of the locations we stayed in spoke excellent English and knew so much about the local culture and sites to see. The workers were friendly and helpful across the board. They were responsive to emails and also provided free maps of the city they were located in.
Free Breakfast: In each location we were at there was a decent complimentary breakfast served at different times in the morning. In Lima they even outsourced the free breakfast at a café down the road. In many of the Flying Dog hostels we were also able to cook our own meals using their kitchen facilities, which helped us save on food costs.
Opportunities for Improvement: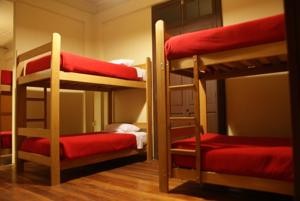 Internet: The internet in Flying Dog Hostels can be spotty, like many other hostels in Peru. When there were not many guests (as was the case in Cusco and Lima) the internet tended to work better, but it was virtually impossible to work online in the hostel in Iquitos. Internet is not a priority for everyone, but since we both do work online the internet situation was discouraging.
Dealing with Lost Items: When we stayed in the hostel in Iquitos we left behind one of our books by accident. We called and the staff confirmed it was there, but when we offered to pay for it to be mailed to us or home they said they would but never followed through. We were sad to lose this particular book.
Kitchenware: It is very nice (and above hostel standards) for Flying Dog Hostels to provide communal kitchens and to give guests any access to kitchenware. However, I was a little sad by the condition of many of the pots and pans. The Flying Dog in Iquitos particularly had very scratched pans, which are known to be carcinogenic.
Some Lapses in Cleanliness: Again, Flying Dog does a great job of providing clean hostels in Peru. If I'm being picky, however, the Flying Dog hostel in Lima we stayed at was a little musty. There are several Flying Dogs in Lima, so some might be better than others. Despite all their cleaning efforts and holiday cheer, the building was dark and a bit grimy. I'm not sure if the other locations in Lima are similar.
All things considered, Flying Dog is a really great chain of hostels in Peru to stay at if you are considering Iquitos, Arequipa, Lima, or Cusco. When we return to Peru we will definitely being staying at this hostel chain again.