Review: Donatella Luxury Service Apartment in Koramangala, Bangalore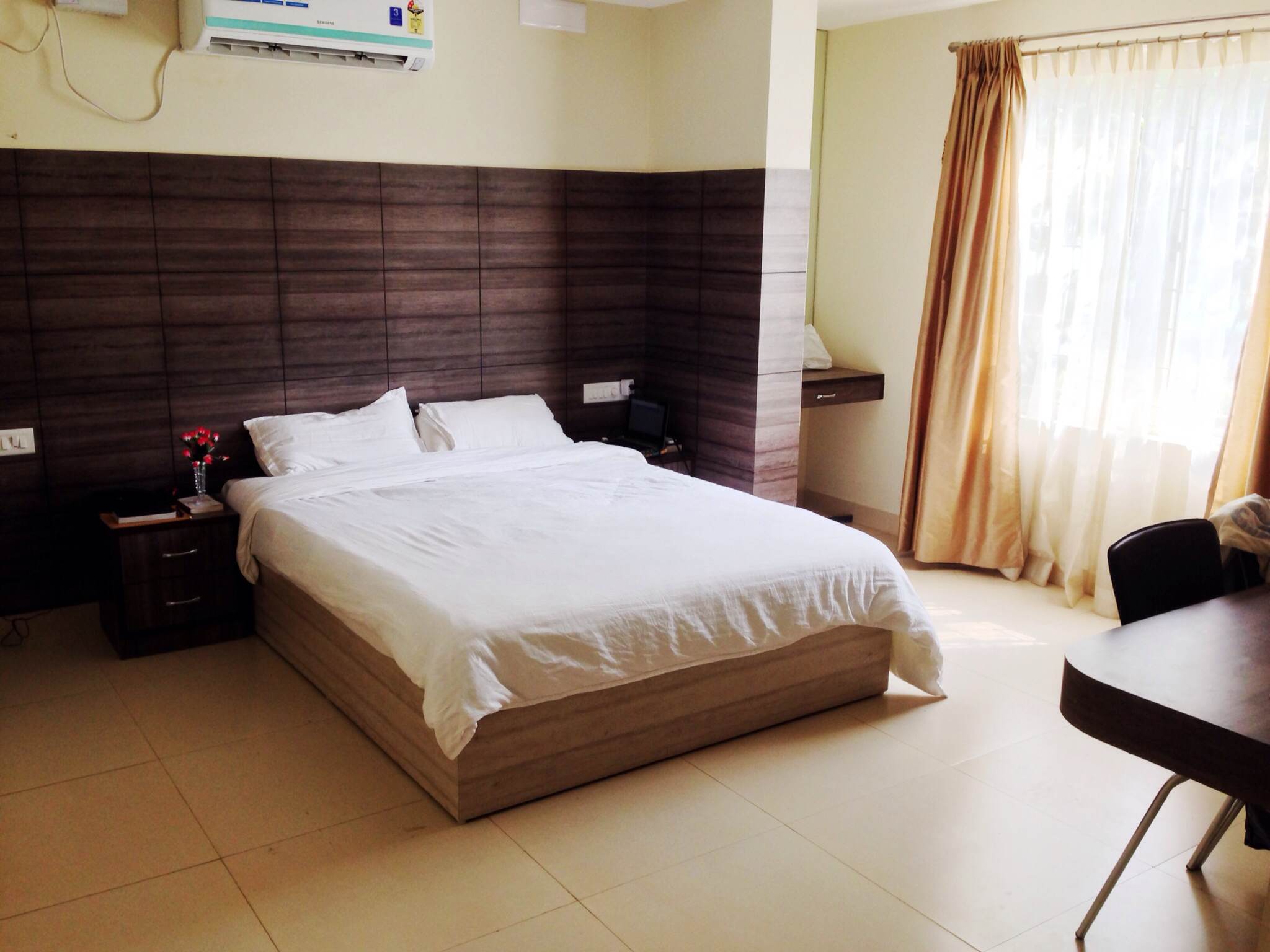 LOOKING FOR a service apartment in Koramangala, India? With some generous help from local friends, Austin and I were able to find a luxury service apartment in Koramangala called Donatella Luxury Service Suites.
Donatella is a brand new, furnished apartment in a happening area of Bangalore. We have been happily staying here for two months. Here is a review of our experience:
http://youtu.be/-Mbpu8U__pk
Positive:
Location: Donatella is conveniently located next to hundreds of restaurants and shops in the trendy neighborhood of Koramangala. It is walking distance from several malls and almost all businesses in the area. We only have to get rickshaws or taxis when we are leaving the neighborhood to visit friends or explore other parts of Bangalore. No traffic for us!
Service: Ajay, the apartment manager, and the rest of the staff are very eager to help and accommodate guests in any way they can—be it through giving helpful local information, providing directions, responding to phone calls, or helping us print or mail from India. Donatella also makes meals for residents who want to add that to their accommodation package.
Rooms: I am a person who appreciates the aesthetics of a room, and I really value having enough light because I think it impacts my mood. Donatella's rooms are minimalist and have natural tones as well as enough windows to fill the rooms with natural lighting. They also include cable TV, good AC, a refrigerator, and an electric water heater for tea.
Cleanliness: Donatella is brand new with great furnishings, spotless sheets, and a responsive cleaning staff. Austin and I are not used to having staff readily willing to help and try not to get used to it, but with all the dust that blows around in Bangalore prompt and daily cleaning does make a difference.
Areas for Growth:
Internet: Since Donatella is so new they are working through internet kinks as they fill to capacity. Most of the time the internet is not strong enough unless we sit right next to the router, and even then it may not work. The staff try to be helpful, but there is only so much they can do without investing in better equipment.
Meals: Since kitchens are not usually available in service apartments in Koramangala, it would be nice if staff could provide a basic menu or an idea of what sorts of things could be whipped up in the kitchen upstairs. Austin and I eat breakfast here but end up going out for all the other meals. From time to time it would be convenient to order in!
All points considered, I would recommend Donatella to anyone looking for a place to stay for a few weeks or a few months in Koramangala. I think it beats a PG, especially for a couple. We are lucky to have stayed here and are grateful for all the amazing restaurants nearby as well as the various shops and friends just around the corner.
Contact Info:
Email: donatella.2014@yahoo.com
Mobile: 9844006868
Phone: 41473232 or 40923891
Address: (this may not be the most precise address, because taxis always get lost)
DONATELLA
# 510, 6th main, 6th Cross
Bangalore
Bangalore-560034
Near Koramangala Club