Sand Boarding in Peru

Yes, that is me, and no, that is not snow.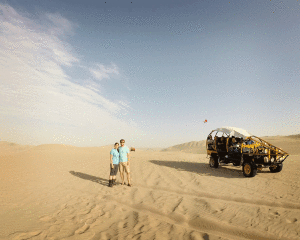 A lot of people, myself included, are not familiar with the biodiversity that Peru has to offer prior to visiting. David Bellamy, an English botanist and environmental educator, said "If there were a planetary catastrophe and I had the possibility to choose a country to save and reconstruct the planet, without a doubt, I would chose Peru." Peru has much more than just Machu Picchu. For example, take a bus south from Cusco (as opposed to north, the direction of Machu Picchu and the jungle-lands) and after 2 days of travel, you'll find yourself in a dessert oasis known as Huacachina, a tiny town outside of Ica in the middle of nowhere.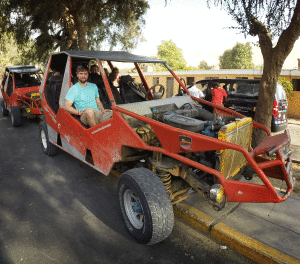 Rooms here are cheap and sandboarding is everywhere. If you rent with an agency through your hotel or hostel, you can get discounts. Most places offer deals around 40 soles (14 USD) to take the dune buggy (warning: wear your seat belt, no one will warn you, but trust me on this one) and enjoy a free board to slide down the sand mountains on your stomach. If you go to a shop, you can rent a real snowboard for 15 soles (5 USD). Renting a board was well worth it. It gave me much more control standing up on the mountain, and being a snowboarder gave me an advantage. However, don't expect it to feel like snow. You fall hard, and you must use a ton of wax (make sure to ask for it) to try and get past the friction of the sand. Still, one of the best expeditions on our round the world adventure so far.