Authentic Amazon Rainforest Tour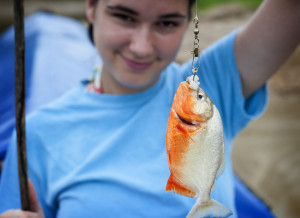 Most people probably don't dream of waking up on their honeymoon in the Amazon Rainforest to the sight of their own feet (bridal pedicure still intact) tangled up in mosquito netting strung around a hammock made for only one person. Most people probably don't love the thought of squinting through the mosquito netting to see if their partner is awake in the neighboring hammock to find it empty, knowing full well he went on an early walk along the lively river. Most people might think we are crazy for doing this, but our two-day, one-night tour through the Amazon Rainforest was one of the best experiences we have had yet on our journey around the world.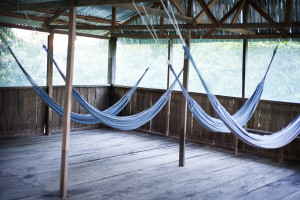 Leticia, Colombia is a hop away from the boarders of Peru and Brazil. Since it is considered forest area, there are no passport regulations within these small towns. There are many tours to choose from, many of which were out of our budget. The internet was no help in finding something, so we just looked once we got to Leticia (recommended). We lucked out and got in touch with the most affordable, authentic tour we could find with a native Peruvian and English-speaking local named Miguel. Our two-day, one-night tour of the Amazon River and Amazon Rain Forest cost 250, 000 Colombian pesos each (about 120 USD).
The tour included all meals and lodging, 6 hour of jungle hiking, looking at wildlife, meeting indigenous people, catching alligators, fishing for and eating piranhas, spotting river dolphins, playing on the beach, and more.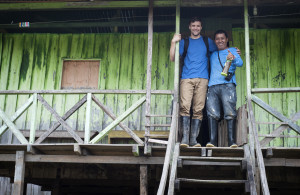 Miguel does not have a formal website and does not go through typical tourist trap stops (which is why the price is so reasonable). If you are interested in going for yourself, he can be reached by email and phone: miguelmendoza3[email protected], (0057) 3208587297. Trust me, you won't regret it.