What to Pack for a Trip Around the World: Thoughts from an Experienced Backpacker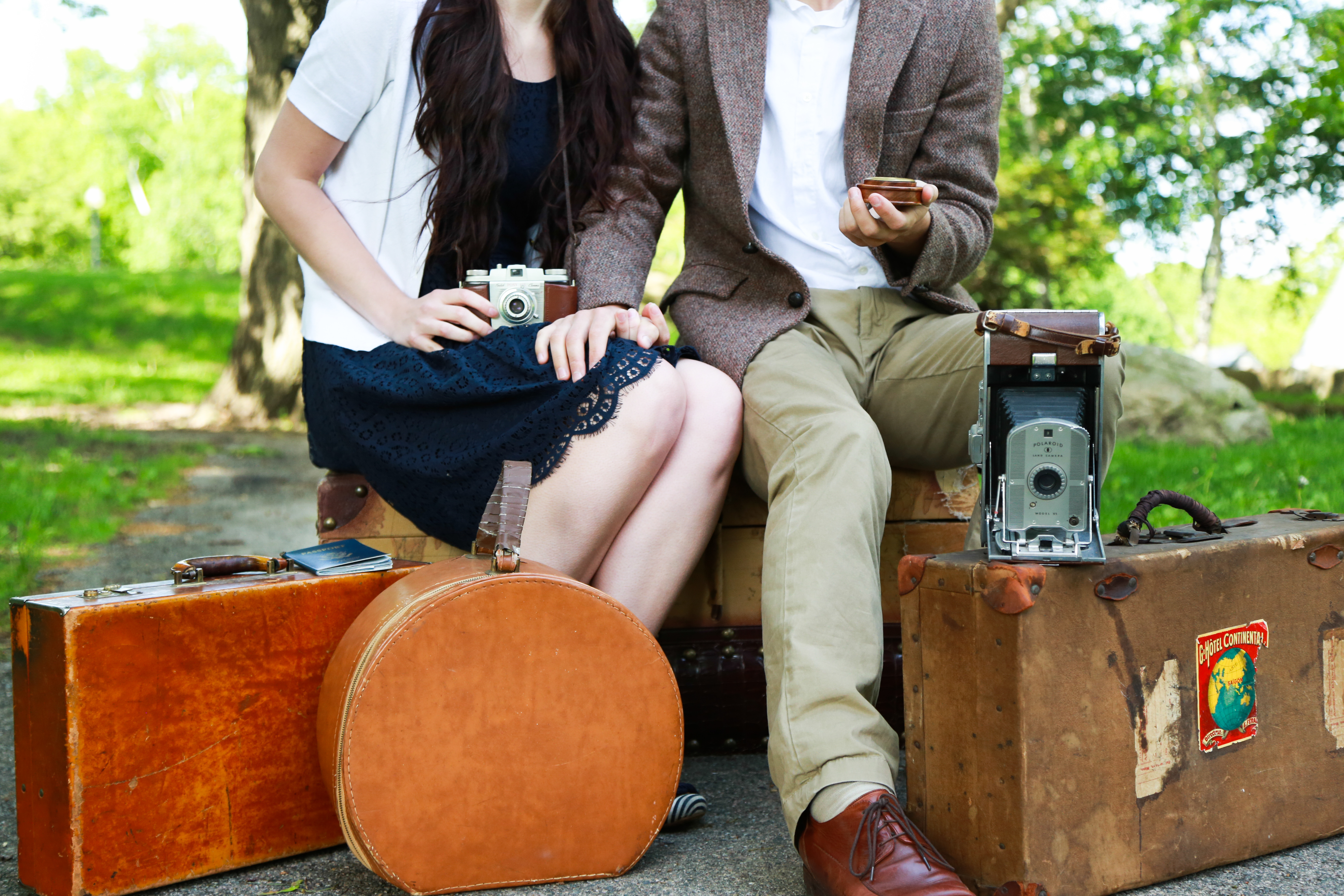 A COMMON QUESTION people ask me as an experienced traveler is what they should pack for their trip around the world or what to pack for a backpacking trip. What you should bring will differ from person to person and where you go—I have a friend who can't part with his collection of colored belts and I also know a couple that lugs around their coffee maker as they cycle around Turkey. I do long-term travel and had to ask myself what I would pack for a year around the world, and I probably carry more electronics than most would recommend because I use them for work. Packing preferences are individual, but remember that (almost) wherever you go you can find what you need to survive. However, I thought it would be worth writing a blog post for new travelers about what I have learned to pack in my experiences with long-term backpacking around the world.
What bag(s) should I bring?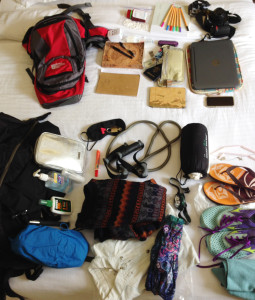 When I take a long trip I pack one larger backpack (I try to go for carry-on size) and a smaller, personal-sized backpack. This way I can put my larger backpack on and still carry the smaller backpack on my chest. There are oodles of people out there who will argue for one brand over another, but the most important aspect of a backpack is having a tight hip strap. I chose backpacks over suitcases because I like to be mobile, and I travel to many places without proper roads for rollers. In my opinion, duffel bags are cute but impractical (I once got a blister on my shoulder from a duffle while wandering through London—I didn't know that was possible).

Larger Backpack:
I only put what I can afford to lose in the larger backpack and items big enough that an airline makes me check them.
Clothes I Can Layer: What clothes you pack depends on individual tastes and where you are going (do yourself a favor and check the weather and cultural dress codes of where you are going first). Avoid over packing clothes because you can get this in the place(s) you visit. Personally I dislike it when travelers look like they are permanently camping and so I try to bring clothes that I like enough to wear for three days in a row, but wouldn't be devastated if they were ruined, without sporting a pajamas/I-don't-believe-in-showers look. I pack clothes I can layer as well to give me more options. In my bag right now I have:

1 pair of black jeans
1 pair of calf-length jeans
1 knee-length skirt
1 long dress
1 warm alpaca sweater from Peru (I wear this on the airplane to save space)
7 shirts (a variety between t-shirts and longer sleeves)
7 pairs of underwear
2 pairs of socks
1 tank top and 1 pair of yoga pants for exercising

Makeup Bag: For short trips, there is no need to pack makeup. In fact, there is probably never a need to pack makeup. Still, I like to bring along the makeup essentials for special occasions and when I feel like dressing up a handful of times a month. I also pack tiny scissors and tweezers in this bag, which really are useful.
Cocoon Travel Sheets: These linen sheets are perfect for shady hostels or hotels with unidentifiable stains on the sheets. I also use them for sleeping in airports. They roll up tight and are easy to wash. Another obvious option would be a sleeping bag, but that can be bulky and unnecessary depending on your trip.
Microfiber Towel: Towels are too heavy to pack, and I can never be sure where there will be clean linens so I pack a tiny microfiber towel to dry off.
Rain Jacket/Poncho: A light rain jacket comes in handy depending on where you are going. I tend to go for rain ponchos that I buy as needed.
Bug Spray: Repel is one of my favorite bug repellants because I prefer 100% DEET for jungle areas. My husband prefers the eucalyptus kind of Repel because he is anti-chemicals. I am too until it comes to preventing mass mosquito bites apparently.
Travel-Sized Liquids: If you are going for carry on keep your shampoo, conditioner, and other liquids in small travel-sized containers you can check through security at the airport. We even have one for laundry detergent for washing clothes on the fly.
Tide Stick: This may be a little extreme, but I like to carry a tide stick because I'm a messy eater and I try to keep my clothes in decent shape. Again, I wear the same shirt for a few days in a row and I try to avoid the homeless look.
Ear Plugs: They come in handy in hostels, night busses, planes, etc. I recently used them to try to sleep when there were random puja chants going on until 2:00 AM for a local festival down the street. You just never know.
Sleeping Mask: I used to make fun of sleep masks when I prissy people wearing them in the movies, but I swear by them now. I just keep the mask they give me on the airplane and use it in hostels and whenever I'm trying to catch up on sleep in public.
Lock: Most hostels will have lockers but not necessarily provide locks. I worry about my stuff and try to lock up valuables.
Exercise Band: Gyms are few and far between or absurdly expensive in the places I tend to travel, so an elastic exercise band is a light weight alternative to lifting. YouTube has videos on how to use them.
Selfie Stick: Don't hate, it comes in handy and helps me get pictures of memories I might otherwise forget.
Jewelry: I'm not a big jewelry person, but the necklaces I do pack I keep wrapped in straws to prevent tangling.
Shower shoes: I put on flip flops before using dingy showers or communal ones in hostels. Plastic kinds work best because they dry fast. Shower shoes are also nice to have around the house.
Running shoes: I wish I used them more than I do, but it is always nice to know I have an opportunity to go for a run. I have a pair of minimalist shoes that do not weigh much.
Headlamp: These are much better than flashlights because you don't have to hold them for writing, reading, working, or traveling in the dark.
Smaller Backpack: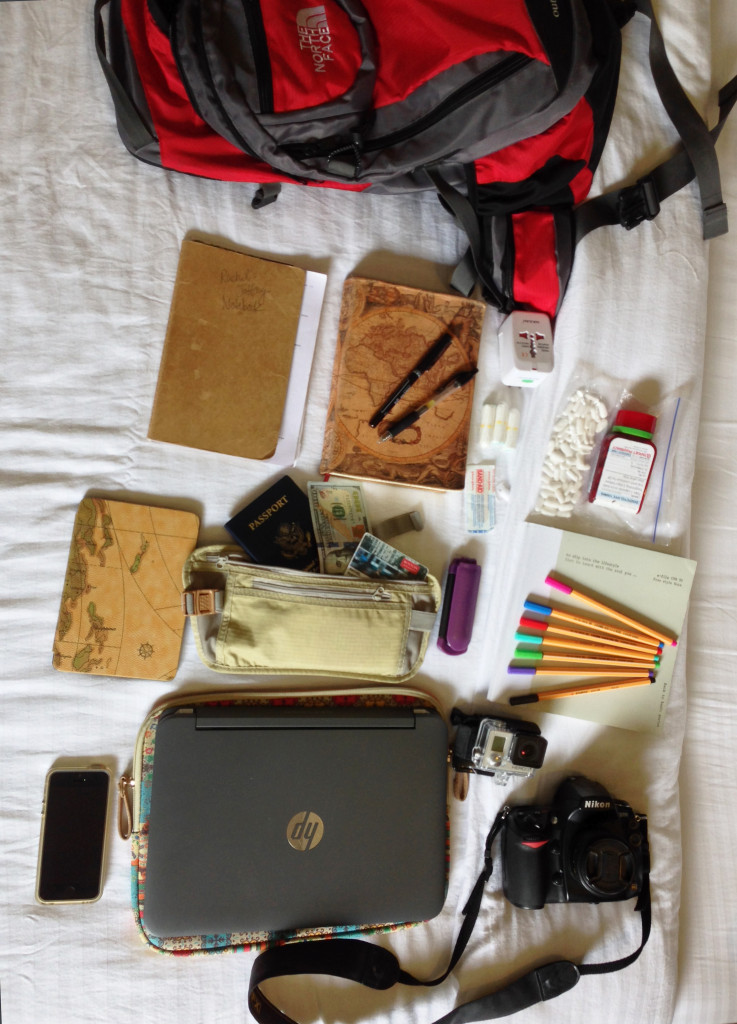 I will never part from my smaller backpack. I stuff it full of my essentials—things I would struggle to live without and my most valuable items (including the chargers). The smaller bag is also good to take on smaller daytrips and around a city, which is why I recommend it. Here is what you can find in my smaller backpack:
Nikon D700 DSLR and 50mm Fixed Lens: This FX camera that takes RAW images. While heavy, I value the image quality and could never go back to a nonprofessional camera. I like the 50mm lens because it is small but excellent for low light and portraits.
GoPro: I carry a GoPro for those wide angle shots my camera cannot get, or for taking great underwater or sandboarding pictures where I would not dare bring my Nikon. We'll treasure these videos and photos from our GoPro forever. I also like to use a wrist strap accessory for when I'm on an adventure. It also prevents it from being stolen if it is attached to your body.
Kindle Paperwhite: I'm an avid reader and adore the feeling of real paper, but when I travel I cannot rationalize taking unnecessary weight. Instead I've learned to look at the positives of my Kindle. For example, the special non-LSD screen doesn't burn my eyes but also has a light I can use if I want to read in the dark. I also sign up for Kindle Unlimited with my Amazon Prime account, which gives me access to virtually every Lonely Planet guide to rent for free. This has paid off, seeing how many countries we have visited and what the cost of each individual country guide would cost.
iPhone: Having a smart phone is an excellent tool for travel, even if you have cut off your cell service like I have. I use it for a million reasons that deserve their own post, but I appreciate it especially for the Google Maps offline feature so I can leave a Wi-Fi zone and still have a map where I need to go.
A Money Pouch: This rather ugly fanny pack-looking thing comes in handy for securing valuables under your clothes. I keep my cash, passport, copy of my passport, Yellow Fever immunization card, contact numbers, and credit cards in here.
Student Card: If you are a student I highly recommend packing your student ID card. I've saved lots of money by getting student discounts at museums, exhibits, concerts, and ruins all over the world.
Cash: I always pack some USD. This is good for many emergency situations (although it didn't work as a bribe when we got deported from Peru in a freak misunderstanding). The exchange rates are also favorable in most places.
Jotting Notebook: Having a smaller notebook to write down notes, phone numbers, or maps is critical to me. I use my Moleskine jotting notebook to write down impressions, addresses, and just about everything to navigate a new city and flesh out later in my journal. Keeping a jotting notebook helps me learn languages faster and allows me to be more descriptive in my journal entries each night. I also use the sides to tuck away business cards and thank you postcards to give to people who help us on our trip.
A Journal: I write daily field notes and journal entries so I can go back and remember all the details of my trip. This is one of the most important items in my bag.
Writing Notebook: This isn't necessary for most people, but I do a lot of writing, character sketches brainstorming, and quote collecting in this baby. I also could never part with my colored Stabilo pens or my black Pilot pens (I swear by this brand because they are easy to write with, though the fountain pen sometimes explodes on airplanes)
An HP Pavilion Laptop: My husband travels with a MacBook Air, which works much better, but I travel with this little touchscreen computer because it is light weight and I wouldn't be devastated if it were stolen or broken since it was only 350 USD. It does the job, and I have Photoshop installed on it for picture editing.
Band-Aids: These always come in handy when you least expect it. Having open cuts in many of the countries I visit is not wise. They are also convenient to have for blisters.
(For Ladies) OB Tampons: Many countries do not have tampons or consider tampons to be taboo in certain parts of the world. OB tampons are great because they are not bulky to pack and don't leave signs of wrappers when you are done to give you away. Plus they are more environmentally friendly. They were a lifesaver in India and Ghana.
Medicine: I keep any medications I need in my smaller backpack because they are in the category of "can't live without" if my bigger bag gets lots. I pack prescriptions, malaria prevention pills (Doxycycline—message me immediately if you are considering Larium!), Ibuprofen, and motion sickness pills (for those windy roads in Thailand and India!)
An Extra Set of Clothes: I operate under the assumption that my larger bag could be lost during any transition, so I pack one set of extra clothes and underwear in my smaller bag to be safe.
Other Hygiene Items: I think deodorant classifies as essential, though some people I've sat next to on the plane clearly disagree. I also carry my toothbrush, a travel-sized toothpaste, a stick of sunblock for my face, and a travel-sized brush for my hair. It may also be nice to bring baby wipes, a wad of toilet paper, and hand sanitizer.